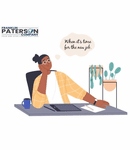 Mid-Career Resume Revision
Your Resume revision service begins with a consultation with a senior Career Counselor who will review your industry experience, skills, and achievements to provide resume-enhancing design, skills enhancements, parsing, and organizational improvements to get your resume noticed!
Your resume writer will check to see if your terminology is up to date or if a new section needs to be added to the resume, or if a structural change will suffice.
Let us redesign your resume and perform a Mid-Career Resume update or revise an old resume if you are applying for a new position, preparing for an annual review, or need to make structural adjustments to a dated resume.
Work with one professional resume writer throughout the writing process.
Does your Franklin Paterson Mid-Career Resume need a revision for a career in a new industry or job search?
Schedule a FREE 15-minute Consultation
to speak directly with your Writer and Career Consultant to discuss your options.This service includes help prepping for interviews.
Client Feedback:
Hello Janis, I wanted to give you an update. I got an offer, and I accepted the job. Thanks for your resume-building skills and the excellent interview preparation sessions.) Thanks, Adnan R. (02/2023)